OpiFlex got through one of the first projects in Robotlyftet and the customer IS Plåt bought an OpiFlex flexible mobile robot for three machines the week after the feasibility study.
Below are excerpts from texts from an article in Svensk Verkstad, read the whole article here and another article in Verkstäderna, see "This is a future investment"
You can also read more about how OpiFlex offers you help in taking the step of automating small series production
The article about one of the first projects in Robotlyftet
The contracting company in Vellinge did a robot lift. Erik Ralvert, CEO and owner, tells Svensk Verkstad how the thoughts went.
High mix and low volume are a major trend in the manufacturing industry and the demands for increased productivity and flexibility are also increasing for contract manufacturers. Automating the business is a path to increased competitiveness, but for many the step feels big and you do not really know where to start.
IS Plåt in Vellinge outside Malmö is a contracting company that, with the help of Robotlyftet, now chooses to invest in three flexible robot cells.
Flexibility becomes a key word
– At the same time, it is currently difficult to find staff. So in order to remain competitive and be able to grow, we needed to find a flexible solution to automate. What we are doing now is partly a future investment, but it will also help us in the short term. We increase productivity while saving our staff.
– We try to look at ergonomic solutions. We try to solve the steps that are most demanding with a robot so that the staff can become more productive and work longer.
– But we should also be able to have the robot running when we go home. We work in 1 shifts, but when we go home we should be able to see that tonight we have the most occupancy on the cutter, then we drive there. The week after, we may have the most coating on the press brake. Then we drive there.
How did you proceed?
– We started discussing when we had problems with our press brake and could not handle the coating. Then we contacted Amada, which is a large supplier to us and from whom we bought many machines. We asked if they had any recommendations and then they told us about the robot company Opiflex. They had heard about them, but had not made any solution of their own with them.
Erik contacted Johan Frisk, who is CEO of Opiflex, and he visited IS Plåt in Vellinge. Johan then told Erik about Robotlyftet. Robotlyftet is a government-supported program that will promote automation in Sweden's small and medium-sized industrial companies. Via Robotlyftet, you can receive up to SEK 150,000 in support of the Swedish Agency for Economic and Regional Growth, a so-called automation check, to review your operations from an automation point of view.
– Before the company can apply for an automation check, you need to do a prerequisite study, explains Niklas Källrot at the Swedish Agency for Economic and Regional Growth, program manager for Manufacturing in Sweden and administrator within Robotlyftet. Such studies are offered free of charge within Robotlyftet through IUC Sweden, but also some other companies such as Opiflex.
Thinking in new directions
In the case of IS Plåt, it was concluded that after automating the press brake, there was capacity left in the robot. So now three flexible robot cells will be set up, where an Opiflex mobile robot will serve a new edge press from Amada, a new lathe from Okuma and a cutter from DMG MORI. At the same time, you will have full manual access to the machines.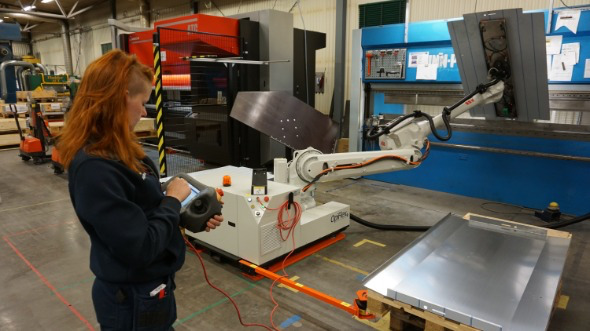 – Opiflex made us think in other directions, Erik explains. From the beginning, I was very focused on the edge press. It is easy to think of robots as a high-volume solution. Instead, we learned to think: What takes more time than it takes to program? It does not have to be about high volume. It is important to find the mix between low volume and high flexibility.
– It is very difficult to run everything with a robot despite the fast and easy programming that we have developed, Johan adds. There can be several reasons, such as small batches, just a few, or that you do not have grippers for example. You may at best be able to drive 70-80 percent with the robot. Or 50 percent or 30. The rest must be driven manually. Therefore, it is important to be able to move the robot to get the best possible payoff on the investment, often for a year.
– As the product mix changes faster and faster, it is important for us to be able to offer a flexible solution that is future-proof. It must meet future needs that we do not know about today without having to be scrapped or rebuilt extensively.
Read more about IS Plåt project in Robotlyftet here, see "This is an investment in the future", one of the first projects in the government's investment Robotlyftet which provides 100 million. There is also an article in the latest Swedish Workshop