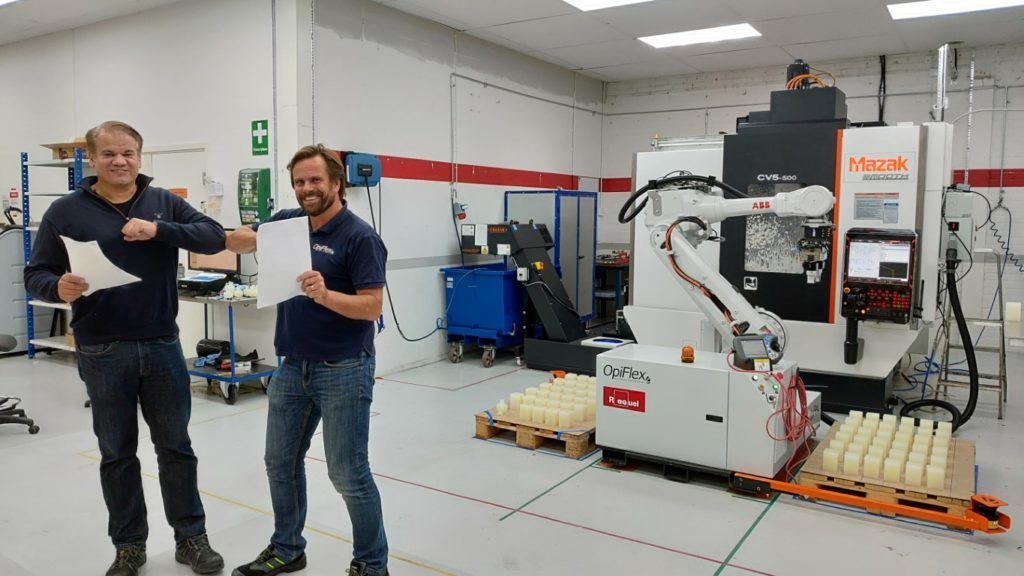 – The whole project started with AQ Group's management contacting us because they wanted a flexible robot solution. We at OpiFlex are very proud of the response we receive from them and that we meet their high expectations.

– We are the market leader when it comes to flexible robot solutions for sheet metal industry.

– We now aim to become the market leader when it comes to flexible robot solutions in machining as well. Many people now contact us from all over the world due to the trend of regional manufacturing. That we can help bring home production to Sweden warms the heart.

says Johan Frisk, CEO, OpiFlex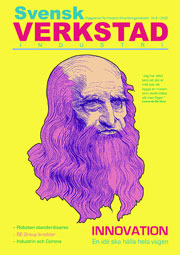 AQ M-Tech supplies components that combat the pandemic
It started with Aros Kvalitetsplast – after a fire at ABB
. Today we say AQ Group, a global company with 6,300 employees and production units around the worl
d. In Uppsala is AQ M-Tech, where Tobias Hammar is CEO and has just invested in a flexible robot solution that enables him to produce machines for controlling Covid-19.
– By chance we got a sharp increase in orders for jobs that would probably have ended up abroad if we had not had the robot.

says Tobias Hammar, CEO of AQ M Tech AB
AQ Group thus has its origins in a minor disaster. After a fire at ABB, one of the founders of the new company, P-O Andersson, had the opportunity to buy out the injection molding of plastic. Aros Kvalitetsplast eventually became a group, when the other founder, Claes Mellgren, had to buy ABB's transformer manufacturing in Enköping. Then Aros Quality Group was formed. Today, the group has grown, driven by these two entrepreneurs, into a global group with operations in Canada, the United States, Mexico, Brazil, Finland, several countries in the Eastern Bloc and India. With several.
"Five-sixths of the employees do not work in Sweden," says Tobias Hammar. In 2001, AQ bought a company in Uppsala that manufactured its own products for systems for the pharmaceutical industry. It became AQ M-Tech.
Hammar has an almost as fantastic development history as AQ.
– I started as a hired fitter in 2003, he says. The following year, I had the opportunity to become site manager. It was a new seat for me, but it went pretty well … So
good that he became CEO four years later. During that time, sales had almost doubled – from five to eight million. – We
were an odd bird in the group, says Hammar. We are the only ones who have their own products, other companies are contract manuf
acturers. – Today we are a system manufacturer and deliver, among other things, complete systems for chromatography, where you filter proteins in the production of biological drugs, such as insulin. – For
this type of machine our own sensor, the one for which AQ bought the company from the beginning. –
Due to the Covid-19 situation in the world, all pharmaceutical companies are trying to make vaccines. Then this machine is needed .
.. In short; AQ M-Tech has received a large order increase to deliver to all new investments required to increase the capacity of these companies.
WELL TIMED
– It turned out that the investment in a robot we decided to make already in December last year would save the situation that arose only much later, says Tobias Hammar. – Without the robot we would not be able to cope with this sharp increase in orders. – It can stand and run the details to the systems around the clock seven days a week and thus solve the bottleneck that would otherwise have arisen. Without it, we would not have managed this hump and the job could very well have ended up abroad.

Tobias says
The robot is thus OpiFlex 'flexible, mobile robot system.
– Of course we looked at many different robots, but got stuck because we wanted to avoid fences without compromising on safety. We did not want to lock in the machine and robot but let the operator have the opportunity to operate the machine without a robot, we wanted the flexibility. We also wanted to evaluate it for the possibility of using the same system in other AQ Group companies.

Tobias continues
– It is easy to use, the robot picks directly in and out of pallets, and we avoid having people feeding inbound and outbound conveyors. The operator thought it was quick and easy and could program it directly.

says the operator Anders

– We got a new Mazak delivered by Ravema in the same crank – the machine the robot is standing by. It was a bigger challenge to convert all the programs from the previous machine to the new one.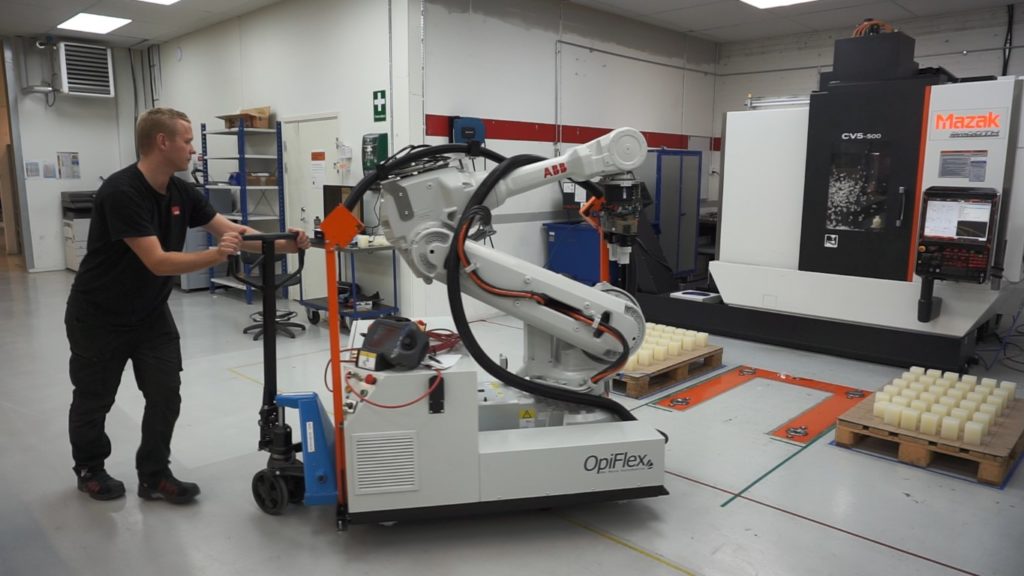 SMART MOVE
– This is a fantastically good example of what we have often talked about; that we can be competitive if we automate, comments Johan Frisk, Opiflex, who is passionate about these issues. – Regi
onal manufacturing has been a trend for some years, but it has been further accentuated during the pandemic. But it requires investing in automation for us to gain competitiveness.
– China buys over 30 percent of all robots, but it costs as much to robotize in China as in Sweden. It is now that we have the chance to take home the
jobs. – AQ Group made a smart move that solved the capacity immediately.

says Johan Frisk, CEO, OpiFlex